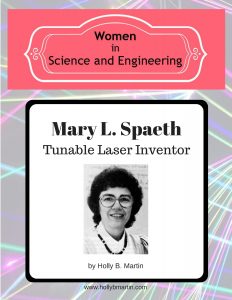 Get this illustrated PDF e-book on Women in Science and Engineering to use with your science class, homeschool, after-school STEM club, science fair project, day camp, or Scout group. You will also be subscribed to the Skills-Jobs-Careers in STEM blog.
DETAILS
This 12-page e-book tells the story of Mary L. Spaeth, inventor of the "tunable" laser. Just six years after the first laser was invented in 1960, Mary began researching new types of lasers. She decided to use liquid dye as a lasing medium – and not only did it work, but it was "tunable" which no one had thought possible!
The e-book contains:
History of the tunable laser
Tunable lasers used for nuclear energy
A simple description of how lasers work
Group discussion questions
Laser Word Scramble puzzle
Bonus!
Laser Diagram worksheet with answer key
Compatible with all national educational standards, including NCTM, ITEEA, NGSS, NSES, and Common Core, as well as the Virginia Standards of Learning. Appropriate for Grades 5-12.
Easy download instructions. Fill in your name and email and click "Download your free STEM e-book." You will receive a confirmation email from Southern River Publishing with a link to the PDF e-book. PDF files can be read with a free Adobe Acrobat Reader account installed on your PC.
Don't forget to check your spam folder and whitelist any emails from holly@hollybmartin.com.
COPYRIGHT TERMS
© 2017 Holly B. Martin. Educators and Workshop leaders have permission to make copies for all participants in a single class or group.
Resale or use of this publication for any other purpose is prohibited.
If you would like to use or distribute any portion of this publication to more than 30 people in a single class or group, please contact Holly Martin by email at holly@hollybmartin.com.