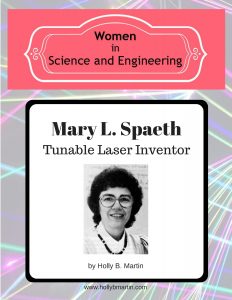 By Holly B. Martin
My story as a woman in STEM (Science-Technology-Engineering-Math) began many years ago when I graduated from college with a degree in environmental engineering.
For my first job, I worked with a group researching ways to use the waste heat created by a nuclear power plant. In this case, heat was a pollutant – because the high temperature of the water released from the plant would kill the native aquatic life in our river.
The researchers thought that if you could collect that hot water into a pond, you could grow a useful type of fish, called tilapia, which thrives in warmer water. This was long before tilapia became the fish of choice at many restaurants, as it is today.
On a rowboat in the middle of a sewage pond
That is how I found myself in a small rowboat in the middle of a sewage treatment pond. The idea was that the plentiful algae in the pond would serve as food for a school of tilapia and the pond's warm waters would simulate the waste heat from a power plant.
My job every morning was to row out to the middle of the pond, pull up the cages full of fish that were floating in the pond, take each fish out of the cage and then weigh and measure it.
(scroll down for more stories about women in STEM careers)
On one memorable day, as I completed the measurements and reared back to toss the cage into the pond, my work badge caught on the wet, slimy rope that attached the cage to a float. The badge soared in a perfect arc up in the air and splashed down into the murky water, never to be seen again.
Not long after, I left that job and moved to California.
Writing about women in STEM
Seven years later, I made an abrupt leap from engineering to editing a technical magazine. Almost overnight, I went from preparing project management charts for large government programs to writing and copyediting articles on lasers and fiber optics – still another type of STEM career.
Since then I've had the pleasure of writing about a number of women in STEM. Here are just some of their stories:
Click here for a free downloadable ebook on Women in STEM careers.