By Holly B. Martin
Cities large and small are buying in to the Smart Cities movement, addressing the challenges of increasing urbanization using data and technology. Women in particular are prominently positioned as leaders in the movement, seeking to create more livable, efficient and sustainable cities through their technical, business and civic know-how.
As more and more people flood into cities worldwide, local governments are being called upon to help provide more services such as healthcare, economic development, infrastructure and safety to their burgeoning populations.
At the same time, the state of technology multiplies exponentially the amount of data being collected—as well as the possibilities of what can be done with this data. In addition to research, which hopefully leads to long-term benefits for many stakeholders, how else can this plethora of data be used to help citizens more immediately?
To answer this question, Smart Cities leaders can choose from a range of data-dependent technologies, such as intelligent lighting, demand response, smart buildings, and smart traffic controls, as well as public services including wireless hotspots and vehicle charging stations. A multitude of helpful apps can also be developed using data from urban sensors.
Smart Chicago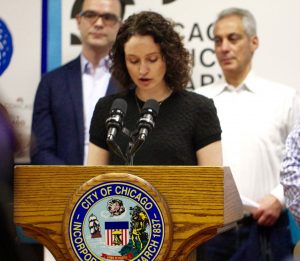 Brenna Berman, Chief Information Officer for the City of Chicago, has been instrumental in launching the Array of Things (AoT) project, which plans to install a network of up to 500 urban sensing nodes on light poles throughout the city by 2018. The project is a partnership between the University of Chicago, Argonne National Laboratory, and the city.
Data from AoT sensors will be made completely free and open to the public on the city's open data portal, and will also be used to help researchers and policymakers improve the "sustainability, resilience, efficient operation, and liveability of cities."
The nodes will collect information on traffic, noise, temperature, barometric pressure, light, vibration, carbon monoxide, ozone, and ambient sound intensity, while cameras will record vehicle and foot traffic, standing water, sky colour, and cloud cover.
In the process of rolling out the AoT, Berman also helped lead citizen outreach as an advisor to the woman-operated Smart Chicago, a civic organization dedicated to improving lives through technology.  Throughout the summer of 2016, Berman and Smart Chicago held meetings to inform the public about the project, answer questions and invite feedback.
Addressing privacy concerns
Many in attendance at the meetings expressed concerns about privacy protection, and those concerns were then addressed in an updated AoT governance and privacy policy.
According to the policy, cameras and audio recording devices in the AoT have no ability to collect sensitive personally identifiable information (PII), including photographic images of faces or other identifying characteristic), fingerprints, handwriting, or other biometric data (e.g., retina scan, voice signature, facial geometry), as well as electronic device identifiers, or vehicle license plate information, would not be collected.
However, except for data calibration purposes, the policy states that any images will be analysed using an image processing computer located right inside the node itself. After processing, the images will be deleted before the data is sent from the node via wireless machine to machine (M2M) communication to a central Internet gateway.
Science in the city
A unique part of the AoT is that small groups of nodes will be used for different research projects in partnership with local Chicago neighbourhoods. For example, eight nodes in Pilsen will contain sensors for tracking air quality and its relationship with asthma and other diseases.
"What I love the most about the Array of Things is that it's truly doing science in the city and out in the communities," Berman said. "We'll be able to engage with community groups to help them make the data their own and figure out how to use it to address the questions they have," she said.
"You're going to see community groups use this data to understand their communities and neighbourhoods better as we all try to build a better life here in Chicago."
2016 Women of M2M
For her work with the Array of Things and other Smart City initiatives, Berman was recognized by Connected World magazine as one of the 2016 Women of M2M (WoM2M). The 42 women on the list were selected "because they each bring a unique perspective to their companies and have helped push connected technologies forward."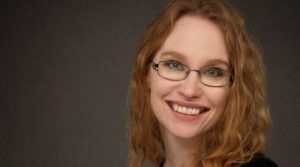 Another woman on the 2016 WoM2M list is Tracey Dickenson, VP of engineering at MultiTech Systems, Inc., a Minnesota-based manufacturer of M2M and Internet of Things (IoT) connectivity devices.
According to the company, Dickenson was a critical figure in bringing long-range wide-area network (LoRaWAN) technology to market and making MultiTech the leader in the space. This inexpensive and easy-to-implement wireless technology uses radio frequencies (RF) for low-interference two-way communication over long distances (10 miles or more) and deep penetration into buildings—perfect for Smart Cities.
One of the first Smart City applications of LoRaWAN using MultiTech devices is a pilot project in the Chinese City of Weinan, Shaanxi Province. The goal is to track and analyse weather conditions using data on wind speed, temperature, barometric pressure and humidity collected from sensors spread across the city. Information collected by these sensors will help improve the agricultural industry of the city, which is highly sensitive to weather conditions.
Business case for Smart Cities?
Another recipient of the 2016 WoM2M award—Alicia Asin, CEO of Libelium—is well known for speaking and writing on IoT and Smart Cities. Asin co-founded Libelium, a hardware provider for wireless sensor networks based in Zaragoza, Spain, while still in graduate school studying computer engineering. Since then, she's won numerous prizes for entrepreneurship and computer science, as well as much recognition in the IoT space.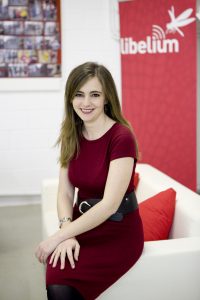 Asin writes that when Libelium first started installing hardware nodes on street lights around cities, she and the other engineers concerned themselves mostly with the technology; questions such as where to place the sensors, how to remotely program them, how to integrate different types of wireless networks sending data from moving vehicles, and how to provide enough power to each sensor to maintain real-time data monitoring.
However, she found that their biggest challenges had nothing to do with technology, but rather with political issues and public perceptions about who was funding the networks, what their purpose was, and whether the devices were safe.
Asin believes that Smart Cities hold much promise for using urban sensing data to help people find a parking spot, to conserve water in city parks, and to monitor transportation, crowd dynamics, and air pollution levels. However the business case for full implementation is still far off.
"I think the Internet of Things is like a new railway age — hardware is nothing but the tracks," Asin said. "First come the tracks, then come the services."
This post first appeared at the Material Matters blog.
Click here for a free downloadable ebook on Women in STEM careers.